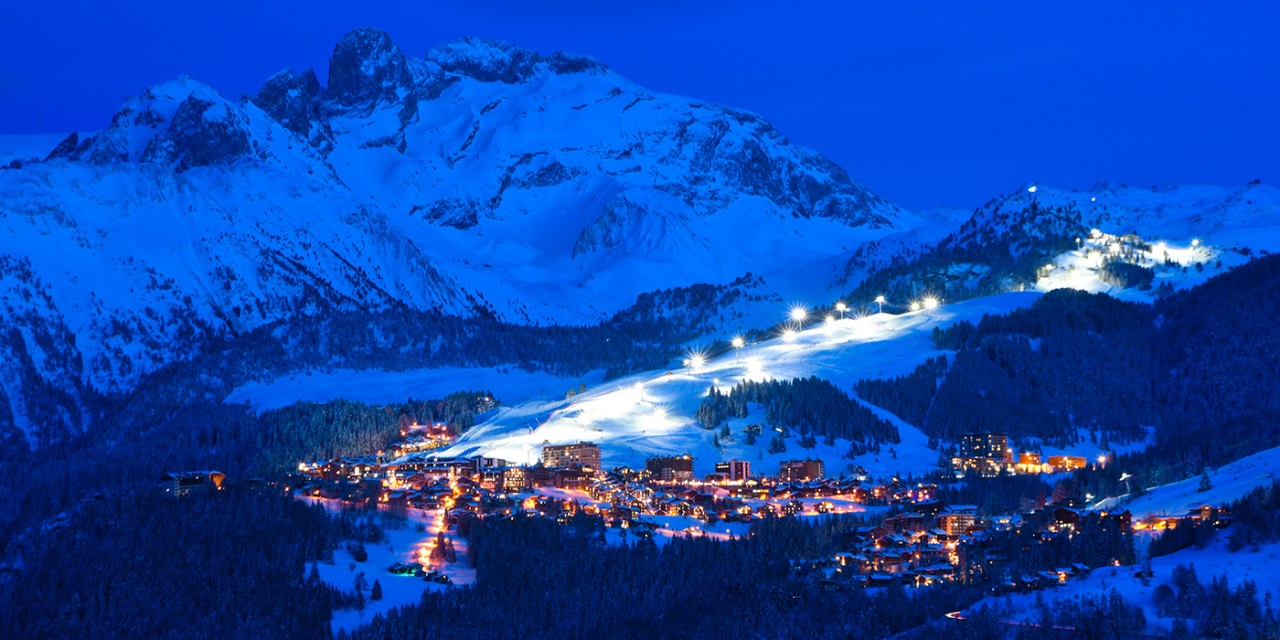 A destination of excellence...
Situated in the heart of Savoy, Courchevel is today one of the most prestigious resort in the world. Because its soul is multiple, cosmopolite, sportive, active and contemplative, festive...
Courchevel has 5 villages, built on different altitudes, each imbued with a strong personality. The story begins in Courchevel Saint Bon; Le Praz has remained a traditional village. Higher up the "young" spirit breath of Courchevel 1550 and on 1650. As in 1850, it looks like a jewel in its setting.
Today, whatever your wishes are, Courchevel beats at your rhythm, and become all of these!
The sportive.
In winter it is skis at your foot that the resort opens to the largest skiing domain in the world "Les 3 Vallées" with slopes of all levels in the forest or high mountain. In summer these large slopes transform into alpages and treks, lakes and rivers are discovered. Courchevel becomes then a balcony with an exceptional panorama.
The active.
Take advantage of the high diversity of outdoor activities, shop or relax on a sunny terrace. In the extreme or softness, in family or together with friends, for grown ups and children, there is always something to do in Courchevel.
International resort, Courchevel is also the place of big cultural and sportive rendez-vous.
The festive.
5 PM : Après-ski! Bars and pubs are hot.
9 PM : the gastronomic or traditional restaurants serve you the most delicious meals...
Later a concert, a piano-bar or night-club take you to the end of the night. Courchevel has a sense for welcome and party!
---
Winter in Courchevel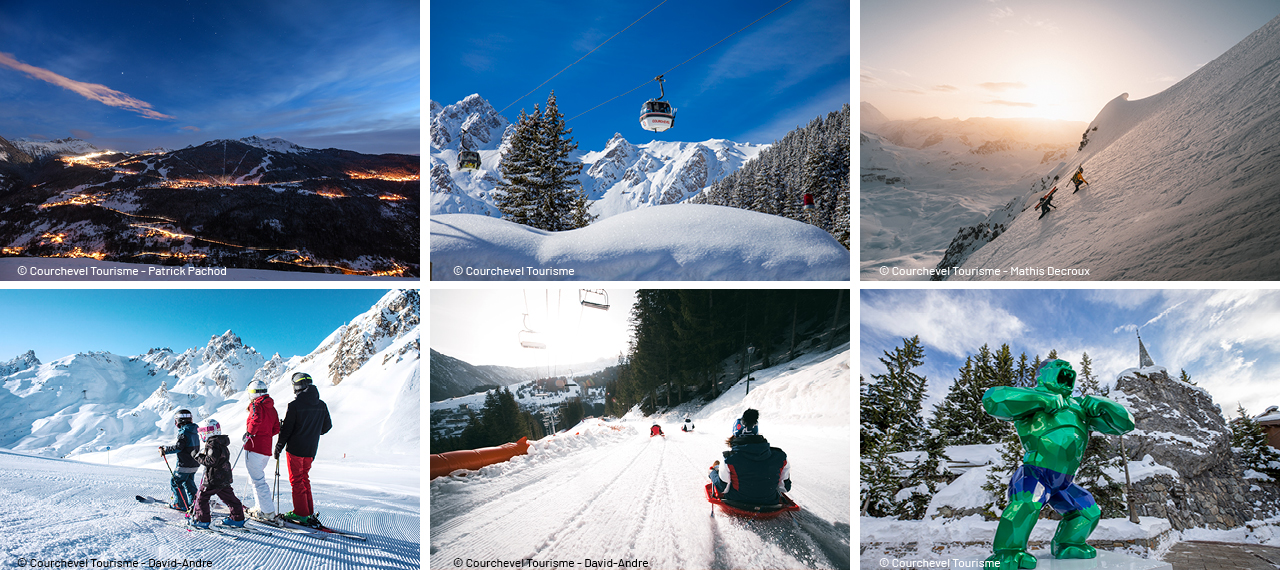 A domain for all skis
93 slopes for the only domain of Courchevel, 336 for the 3 valleys and more than 600 kms of relied slopes... 10 000 hectares of deep snow skiing.
Heliski. Lang-lauf and cross-country skiing.
Mountain activities.
By feet or with snowshoes, a lot of nature trekking. Ice climbing and winter Via ferrata.
Shape and well-being.
Spas (relaxing and aesthetic cures), back into shape. Nordic walking
Cultural activities.
Guided visits, exhibitions and art galleries.
Cooking internships.
Visit of Olympic ski-jumps.
International manifestations all during the winter.
Your evenings.
Bars, pubs and terraces for after ski
70 greedy addresses - Gastronomy 3 stars restaurants in the Michelin guide
Evenings with themes under a tipi, in an igloo, in a yurt or in the middle of a forest...
Concerts, pianos-bars and night-clubs…
Everything for the children.
The children village
The Indian camp
Course of the mini guides
Liane of Tarzan
Secured slopes of sledge
The Courchevel roundabout
The activities of the Forum
A lot of infrastructures.
Library, cinema, bowling, indoor climbing wall, skating ring…
For more information, visit:
courchevel.com les3vallees.com
---
Summer in Courchevel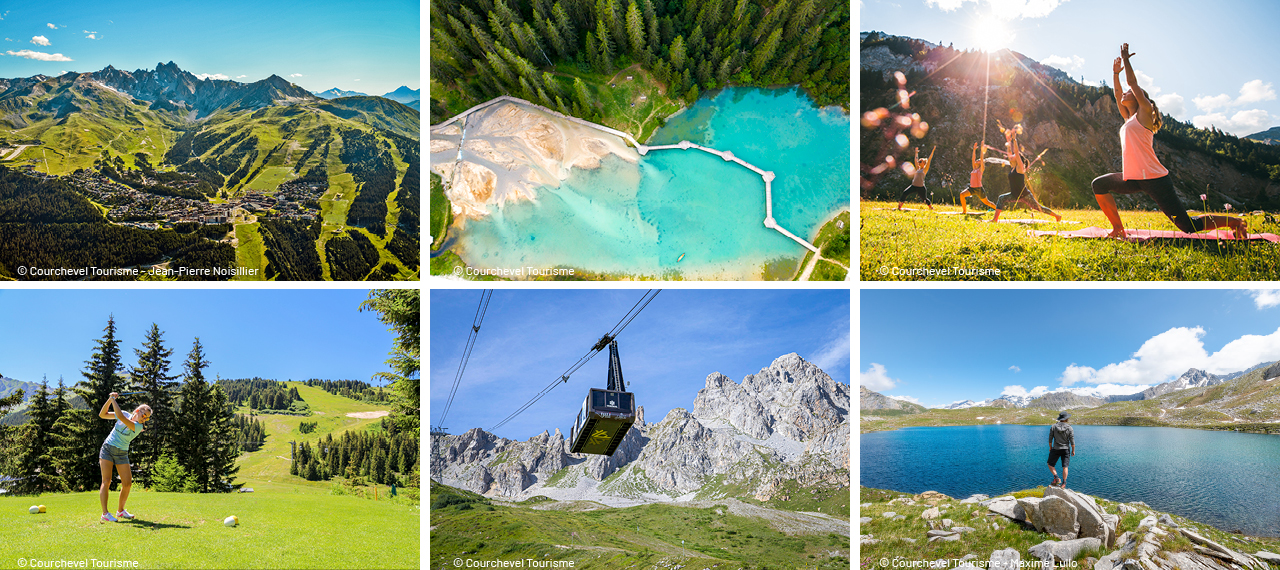 Mountain activities.
The treks of Courchevel lead in the National park of the Vanoise :
Alpinism, walking hikes, climbing, Mountain Bike, Via ferrata, canyoning, hydro speed, rafting, fishing, golf, horse riding, tennis, swimming pool…
Aero activities and mechanical sports.
Baptism in a small plane or helicopter, jumping in free dive, air balloon, paragliding.
Shape and well-being.
Back into shape, coached sports, relaxing and aesthetic cure in spa. Nordic walking.
Cultural activities.
Guided visits, permanent exhibitions, art galleries
Foreign languages and IT, Music and singing
Meeting evenings National Park of Vanoise
Cooking internships
Visit of Olympic ski jumps
Library, cinemas, concerts
Play and sport activities for the children.
Game areas with free access under the checking of parents.
Golf, Paragliding, Poney club, Tennis, Mountain Bike, Swimming with professionals who give an adapted coaching.
Forum space: Bowling, Video games, Skating, Climbing and Tyrolean.
Events.
Village parties
World cup in ski jump
Aeronautic feast
Light and sound
Skating galas
Pyrotechnic festival
For more information, visit:
courchevel.com les3vallees.com